A Dream Steeped In Tea
Every journey begins with a dream, and at Freshleaf, our dream was born over a comforting cup of tea. Our story is not just about us, but also about you, about transforming the ordinary into the extraordinary, about finding connection in shared love for tea, and celebrating every sip, every moment, and every individual.
At the forefront of this dream are Muneet Arora and Balkirat Singh.
Muneet, a visionary with a love for tea, and Balkirat, a savvy entrepreneur with the knack for turning dreams into reality, came together with a singular mission: to reimagine the tea experience, making it not just a routine, but a personal delightful moment of joy.
Their guiding principle? You. Your moments. Your experiences. Your joy. So, come along and join us as we continue to brew a revolution in the world of tea, one magical cup at a time.

Our Story
Crafting Unforgettable Moments
"Your Moment, Our Blend" – it's not just a tagline; it encapsulates the very essence of Freshleaf. It reflects our heartfelt commitment to transform each sip of tea into a treasured moment that is uniquely yours. With a blend of passion and care, we strive to enhance every moment, big or small, with a thoughtfully crafted cup of tea personalized just for you.

From Leaf to Life: For Planet and People
At Freshleaf Teas, sustainability is not just an aspiration; we're actively brewing it into our business. Every decision we make, from our packaging to our sourcing practices, is steeped in mindfulness and care for our planet. Our tea bags, crafted from pPLA, are an ode to our commitment to a healthier Earth. Our organic teas, responsibly sourced and freshly packed, are a testament to our dedication to providing you with a flavourful experience that's as conscious as it is delicious.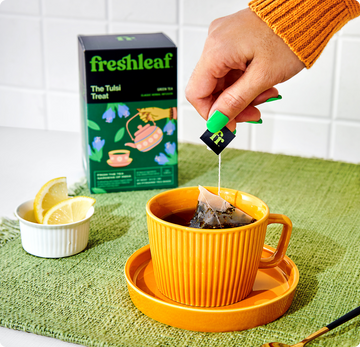 Our Mission
Brewing a Better Future
With every cup of Freshleaf tea, you're sipping more than just a delightful blend. You're helping us illuminate the path to a brighter tomorrow. We've pledged 1% of our profits to Bhavyadev, an esteemed NGO dedicated to empowering the future through education. Your tea moment is not just a personal indulgence, but a shared commitment to nurturing minds and making a lasting impact. We're brewing change, one cup at a time.